UPDATE: (07/31/15) If you want to do an auto fresh on the page, check out some browser extensions that can handle that, for example for chrome: Easy Auto Refresh

The Charlotte user groups just completed a highly successful (yea there was ice cream and prizes!) Salesforce Summer of Trailhead event.  In total just over a 25,000 points were won in a little over 2 hours, with our winner gaining 8k points alone!
A neat feature we had at the event was a Trailhead Leaderboard showing the "Trailblazers", points they had, and a countdown to when the contest ended.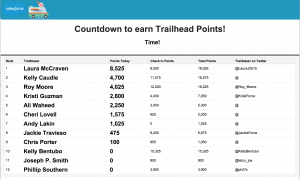 The page itself wasn't that crazy to put together in a dev org using Contacts, custom fields, a Visualforce page with Apex Controller, and a javascript file to control the countdown.  Add in some custom links and a custom setting for managing some of the page pieces and its a quick little solution.
Want to check it out and use it?  Please do!  I've done two things, one is packaged all this up together so you can install in a Salesforce org (developer environment suggested) and I've also posted the code to github which  gives you a quick rundown and gives you the link to install the package.
https://github.com/phillipsouthern/Trailhead-Leaderboard
Any questions, let me know!  Blaze a trail!