Updates 10/1: For the first step and link for the ical, a button has just been made available to download directly from My Agenda, so you don't have to remember the link anymore.  Also per the 9/30 Road to Dreamforce 14 episode, a release to hide Favorites on export should be made available soon.  So another great option!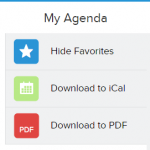 *************************************************************
It inevitably happens…..you're rushing between Dreamforce sessions, trying to find the building and room number of the next one you're heading to, and for the life of you, you can not get the Dreamforce app on your phone to load.  You reach for your tablet or laptop….but the wifi is also down.  Next you reach into your bag to get the print off you  made, but alas you left it in the room.
This may seem like an extreme Dreamforce scenario……but has happened to me….twice!  The  1/2 square mile at the Moscone area can be a digital war zone.  What I've started to do is create a google calendar for my Dreamforce sessions.
Advantages:
Its separate, and can be toggled to only see your sessions.  This may be helpful if you have a ton of sessions/appointments.
You can store either just confirmed sessions or favorited.
You can share just this calendar with people without having to publish your work or personal calendar.
Access it offline people!!!!  Great backup to the Dreamforce app and you can get rid of the printout.
Disadvantages:
Not real time, this will only be as good as the last time you've imported your sessions.
If you want to re-import, you'll have to delete all the existing calendar appointments (sessions) or just delete the calendar outright…..and have to re-share if you want people to see it (in the case of deleting calendar).
Steps:
Login to the Success Community and head over to the Dreamforce section.  Then in the browser type in the URL: https://success.salesforce.com/ev_ical     You should get a file to download prompt like this: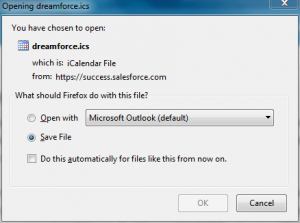 Now you need to create your Google Calendar, go ahead and login to your Google account and go to Calendar, click on the down arrow next to My Calendars and select Create New Calendar: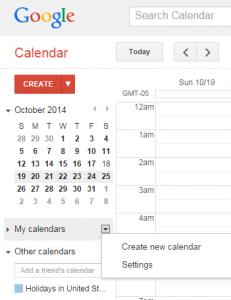 Put in your calendar title, details, location, and time zone.  I've set my timezone to Pacific because that's how the times are listed.  When viewing it will covert into your viewing timezone (eastern in my case).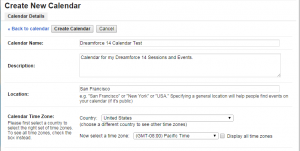 Before you finish creating the calendar you will also have the option to go ahead and share, you can do it now, or go back into the calendar afterwards by clicking on Calendar Settings and Share This Calendar.

After you've created the calendar, you'll be taken back to the main Calendar view.  We want to go to the main calendar settings to import our file.  In the top right you'll see the gear icon for settings, click on that and Settings.  (note: you can also go this way to create a new calendar)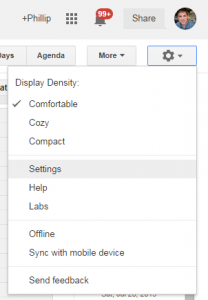 On the settings page, click on the Calendars link (tab like at the top), and then in the middle  of the page there will be an Import Calendar link.  Once you click on it you can upload the file and select which calendar to import to (one you just created).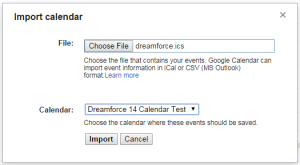 There you have it, once you go back to your calendar and timeframe for Dreamforce you'll see all your sessions and events.  Each will have either (Favorited) or (Enrolled) at the beginning so they are easily identifiable.  As you can see, I have some work to do.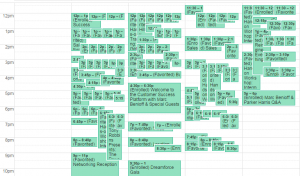 Have fun!